VICTOR Support Series
VICTOR SUPPORT SERIES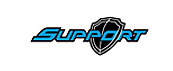 SUPPORT:ANTI-TORQUE and SHOCK RESISTANCE
The footwork in badminton, is inspire by the Chinese character for rice "米",The SUPPORT type of badminton footwear includes two characteristics: SHOCK-RESIST and STABLE.  
SHOCK-RESIST, according to the hardness of the insole and the thickness of the shock resistance pad, the impact when you jump is absorbed, reducing the sudden pressure on your feet.
STABLE, lateral and whole sole of foot stability systems reduce the inward turn of your feet when you move, lowering the chance of injury.